PRE-sale questions
How much weight do the tables support?
Our tables are sturdy and support at least 40 kg or more. We don´t recommend to step on the table as it can come to a bowing under load which can cause pressure on the mirror.
How high is the necessary height of the celling?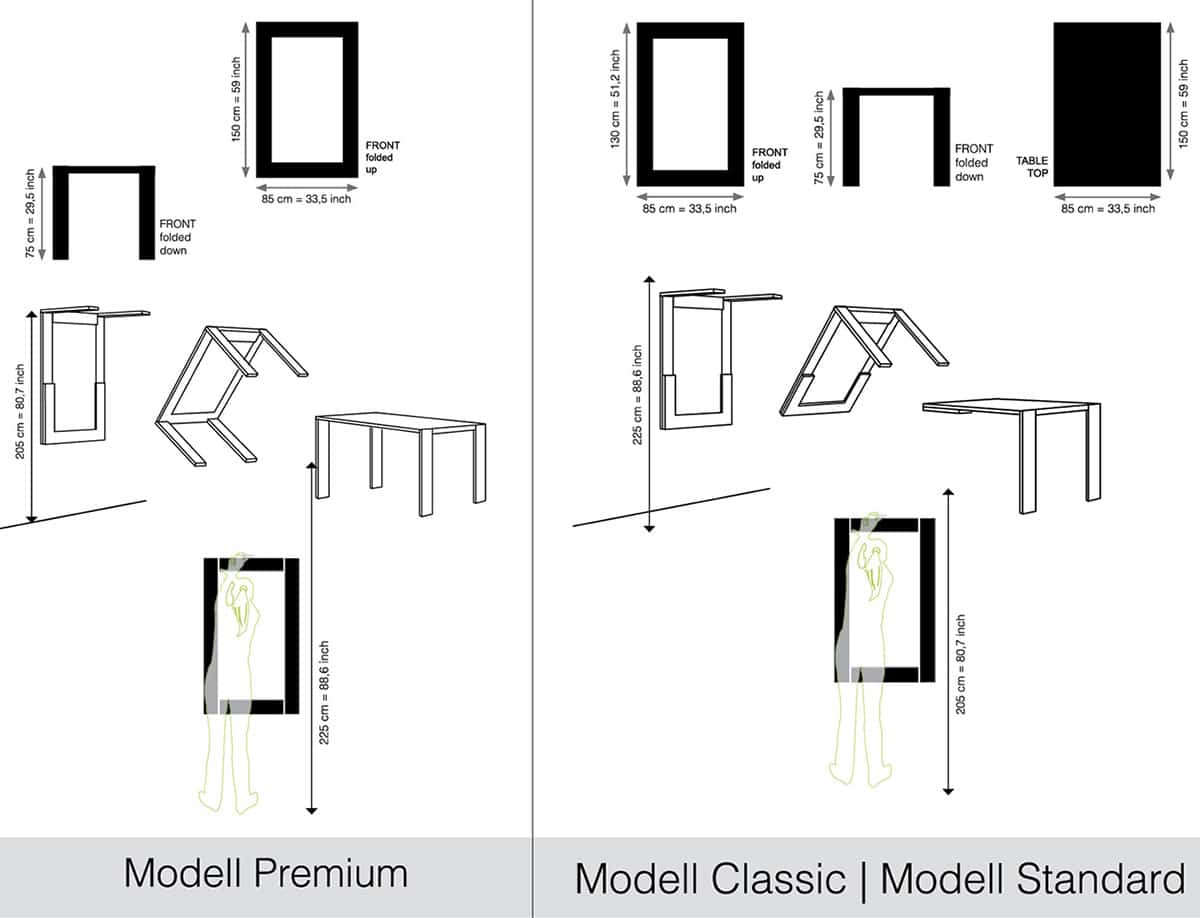 The necessary height of your ceiling depends from the model you choose. The minimum height of your ceiling for Model Standard / Model Classic is 215 cm = 85 inch for Model Premium 235 cm = 92,5 inch
How much is the distance between wall and the picture frame when the table is folded up?
The distance between wall and the picture frame is 8 cm = 3,2 inch, the distance between wall and table top is 2 cm = 0,8 inch. Existing sockets don´t have to be removed.
Is a picture included in the price?
We usually send our folding tables without pictures. In case if you would like to order the picture which is shown on the website please contact us. We also print your photos in the right size. The extra costs are 50 €.
Do you offer matt boards?
Yes, we offer matt boards  in white color for your photos. Our high quality matt boards are are yellowing resistant. Thickness: 1,4mm. The extra costs are 30 €.
| Modell Classic und Modell Standard | Modell Premium |
| --- | --- |
| | |
Can we choose our individual color for our table?
Yes, you can choose a color of your preference. Please therefore send us an international RAL-number in order that we can guarantee for the perfectly right color. For color inspiration please open our RAL-Color-Panel.
Custom production
Are your tables available with touch-screens?
Yes, we as well realize individual orders with touch screens for an extra charge depending on the model of screen you choose. Please contact us therefore to discuss your ideas.
Can I order a custom-sized table?
Yes, we regularly manufacture individual sizes for an extra charge of 200€. Minimum lengths for our different Models: Modell Premium: 150cm (59 inch) Modell Classic:      130cm (51,2 inch) Modell Standard:  130cm (51,2 inch)
Shipping
How long does delivery take?
Delivery times depend on the surface you choose. Tables with black lacquered surfaces and the Model Standard without surface finish will be sent within a couple of days. Tables with veneer or colors on demand will be delivered within 4-6 weeks maximum. We contact you before sending your parcel and forward you a tracking code in order that you can follow up the status of your parcel.
To which countries do you deliver?
Our parcel can be shipped worldwide. We have a long experience with delivery to all continents and guarantee for a secure transport. In case if it still comes to transport damage IvyDesign will be responsible to cover the costs.
How much are the delivery costs?
Delivery costs within Europe are 69 €. All other destinations outside Europe are 199 €.
How much time takes the shipping?
Shipping time is 2-3 working days to destinations within Europe. For all other destinations shipping time is 3-4 working days. You will receive a tracking number to follow up the status of your parcel.
Quality and guarantee
How long is the warranty?
Do your tables have wear parts?
All parts of our tables are made from high quality. The material of the technical parts like hinges are made from thick stainless steel which guarantees an extra long life time.
After-sale questions
How can I exchange the motif of Picture Table?
The exchange of the poster is easy and takes only a couple of minutes. You basically need a screw driver for opening 2 (Model Standard + Classic) or 6 screws (Model Premium). The opening mechanism allows to slide out the plexiglass from the picture frame and insert the new poster quickly.